It is always nice to combine colours which coordinates with each other. Pink and purple is always a nice combination and give perfect tones in pastel.
These hantarans were made for my sister in law, who will be tying the knot by end of November.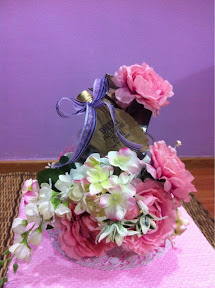 The perfume in the decorated glass bowl.
This tea set is actually for lollipops prepared as hantaran. Thus tea (or candy?) for two is created. The lollipops will be set inside the teapot.
Spectacles for the groom as another hantaran gift which was placed inside a white oval plastic basket. The basket was bought from Daiso for a mere RM 5.
The shoes. I still feel stuck on how to decorate this. Hmm, my creative juice, where art thou?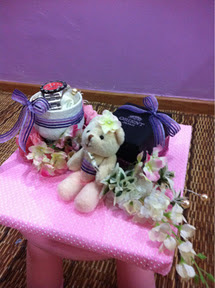 A watch for the teddy bear :)
- Blog Press enabled